The 5th R&D and General Assembly of the Marina Project was hosted by project partner, Dr. Jens Hjelmstad of Hjelmstad AS (HAS) in Fornebu, Norway. Project coordinator, Jacek Gruszka of Offshore Monitoring Limited (OSM) kicked off the Day 1 Agenda by inviting R&D coordinator, Dr. Waqas Qazi (OSM) to present a project technical development update and an overall Hardware, Software, & Integration plan.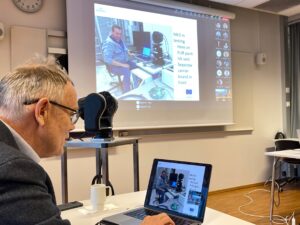 Next, the Electronics update was presented by Geir Frode (HAS), followed by a Software update (back and front-end) by Qazi (OSM) with the support of technical team members. After, Marli Fraser (OSM) and Andrea Littardi (OSM) each delivered detailed presentations covering the Graphical User Interface (GUI) features and Artificial Intelligence/Machine Learning-based Object Detection, respectively.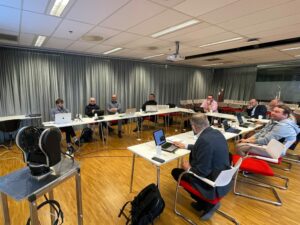 The final presentation was on Large scale Piloting and End User inputs by Captain Igor Toncic and Marko Stokov from Global Maritime Services Limited (GMS) and Captain Jorgen Grindevoll, Ladar Limited CEO. The 2-day meeting will include discussions by project partners on progress made, milestones achieved, a review of analysis and risks, a project timeline, and the plan for testing the LadarTM Sensor Suite.